Work with our Founder, Stacey Saltzman!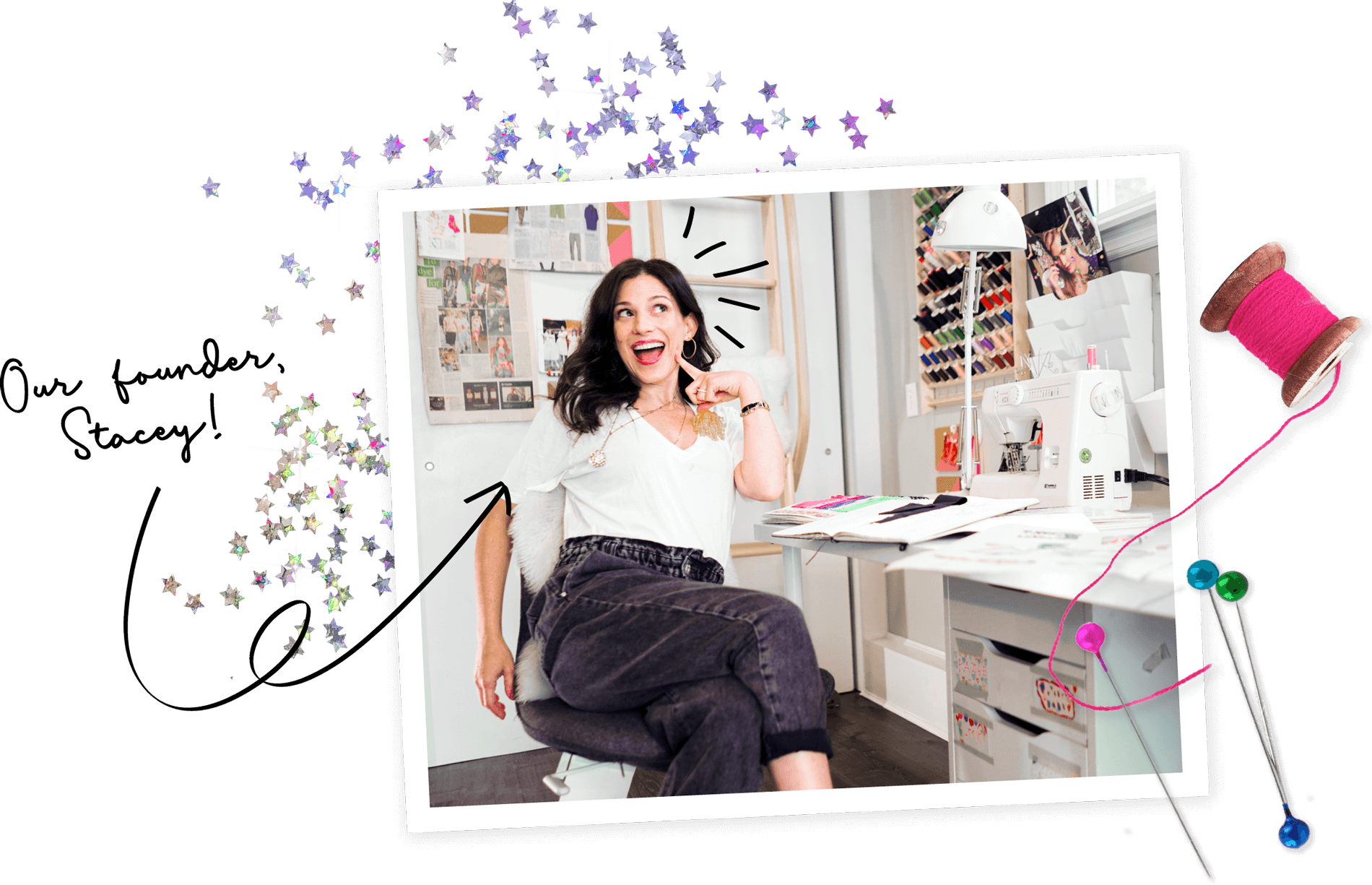 Stacey is now available for workshops and one-on-one consultancy.
Stacey collaborated with Cynthia Rowley & made up cycled DIY scrunchy's with her clients at her Montauk Flagship store. Cynthia supplied the waste scraps from her latest collections and My Style Camp design instructors taught shoppers how to pin and machine sew their own scrunchy!
Inquire for your next corporate event, your employees will love!
Stacey's most recent accolades came after she was featured on TLC's hit show "I Am Shauna Rae", where Stacey is Shauna's fashion mentor.
In reality, Stacey is Shauna's fashion design consultant and helping her create an inclusive fashion line.
Please contact her via email at msc@mystylecamp.com to receive more details on rates and availability.
Workshops:
Secrets of success

Bravery and mindset - Believing in yourself

Style accessibility and inclusivity
Custom design
Push and pull of the future
One-on-one consultancy:
With her expertise and years in both the costume design and fashion design industries, Stacey is able to help her clients with a range of fashion business essentials.
This includes:
Secrets of success

Bravery and mindset - Believing in yourself

Mood boards and helping pinpoint your vision

Sketching your concepts

Adobe Illustrator Cads to tech packs

Helping with manufacturing connections
Learn more about Stacey Joy Saltzman -Creator/Founder -My Style Camp Inc.
Head Teacher & Founder, fashion illustration & design
Stacey Saltzman saw first-hand how a custom rainbow sparkle dress she made for her daughter brought out her shy daughter's confidence and creativity.
She also remembers how being able to make her own clothing empowered her in school when she was young. So, she made it her mission to make this possible for YOUR child, tween, or teen.
After multiple successful careers in costume design & fashion design*, Stacey realized she wanted to "fashion" a career that would fit her new lifestyle as a mom and wife too, and so, My Style Camp was born!
She loves teaching, creativity, fashion, design, sketching and sewing, as well as working with kids. Stacey is known for breaking out in a 90's style dance move in the middle of class to get everyone to relax and not take their projects or themselves too seriously. When she is not designing she can be found looking for crabs and sea shells with her family or making up dances in the mirror with her daughter Sydney Meadow.
Stacey graduated from the Tisch School of the Arts at NYU and majored in Costume Design. Inspired by her talented professors, Gregg Barnes and Kitty Leech, Stacey became the youngest Union member of (local 829 United Scenic Artists), designing costumes for TV soap opera Guiding Light & then assisting on numerous Broadway performances such as Rent and A Christmas Carol at Madison Square Garden (starring Roger Daltry as Scrooge). Stacey sketched designs for the Broadway show, The Prince and the Pauper and designed costumes at City Center for Alvin Ailey American Dance Theatre's main company. She also toured as wardrobe supervisor for The White Oak Dance Projec_Asia tour to (Hong Kong, Guam, Taiwan, Seoul). Stacey costumed and was assistant to Mikhail Baryshnikov, an experience of a lifetime.
She also was a stylist for Television shows such as The Guiding Light Soap Opera and was an assistant costumer for a TNT spot directed by Spike Lee and costumed star athletes such as Michael Jordan, Lebron James and Carmelo Anthony to name a few. She also has a few award winning independent films under her belt as assistant and head costume designer for "Tadpole," starring Sigorney Weaver, Bebe Neuwith and Jon Ritter and "Technical Writer," starring Tatum O'Neil.
Stacey changed direction in search of a more stable career and moved from theatre to the world of fashion. She attended FIT (Fashion Institute of Technology) while she worked her way up the ranks eventually to Senior Fashion Designer and designed for major corporate brands such as Calvin Klein, Jessica Simpson & Tommy Hilfiger. She was a Sr. Designer for Tommy Hilfiger's Junior Girls and tween girls lines for her last 7 years in corporate design before starting her own business teaching fashion to your children.